How FTX and Alameda Research caused the collapse of Solana
- 7 minute read

The fall of FTX has done a lot of damage to the crypto market. Prices of Bitcoin, Ethereum, Cardano and other cryptocurrencies dropped significantly after the market discovered that FTX had been a house of cards. The price of Solana (SOL), in particular, fell sharply . Where just before the fall SOL traded at a price of $37, 2 weeks later only $11 was paid for one SOL token. Is now the time to buy the dip, or will Solana not survive FTX's fall?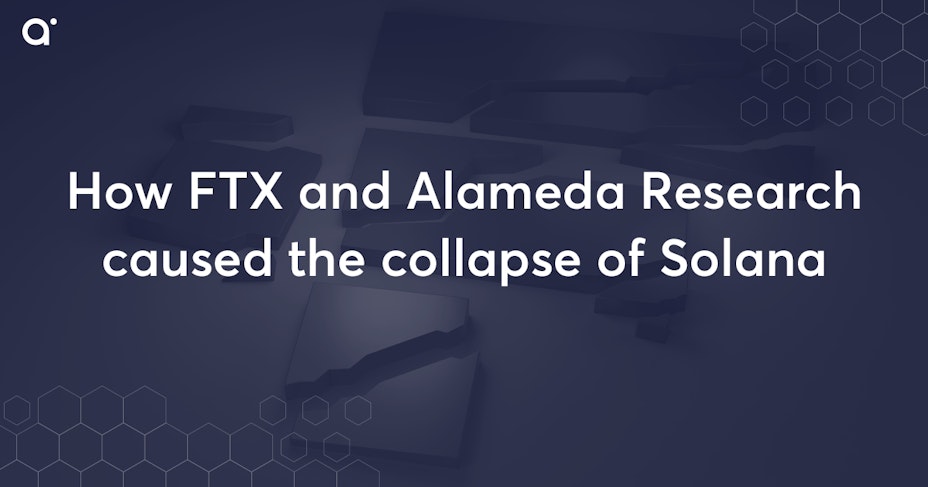 Table of Contents
What is Solana?  
Solana , with the accompanying SOL token, is a smart contract platform on which decentralized applications (DApps) can run. Solana went live in 2020. The network is labeled by its inventors as the next generation blockchain. Solana can theoretically process 65,000 transactions per second (TPS). This is achieved through the use of proof of history (PoH). At the time of writing, the number of transactions per second – according to the block explorer – is approximately 4000. This makes Solana one of the fastest blockchains out there. 
FTX & Alameda Research  
FTX was founded by Sam Bankman-Fried (SBF) in 2019. Since its inception, FTX has built quite a reputation. They bought an Arena in Miami (FTX Arena), sponsored Formula 1 and donated millions of dollars to political campaigns. FTX was the number 2 crypto exchange in terms of trading volume, with Binance leading the way. Due to an article from CoinDesk on Alameda Research, Binance CEO (Chanpeng Zhao) decided to sell the FTT position they had acquired through investments in FTX. Because FTX was dependent on the price of FTT due to outstanding loans, for example, they ran into problems. It soon turned out to be a house of cards within FTX and they could no longer meet the withdrawals that customers wanted to make. The number 2 crypto exchange went under. For a moment, it seemed that Binance would save FTX by buying the company, but this was quickly swept aside by Changpeng Zhoa after viewing the books of FTX. 
Alameda Research was a quantitative trading company specializing in cryptocurrencies that – like FTX – was founded by SBF in 2017. They provided financing, were an exceptionally large market maker, did arbitrage, and were a major participant in all kinds of DeFi projects. For example, Alameda had made more than 180 investments in DeFi projects since its existence. SBF owned about 90% of Alameda in 2021. The fall of Terra (Luna) in May 2022 affected many entities in the cryptocurrency industry. This includes Alameda. In fact, it is rumored that after the fall of Terra (Luna) and the problems at Alameda, FTX lent about half of its customers' assets to Alameda which was strictly against the rules. As of June 30, Alameda still had $14.6 billion in assets on its balance sheet (according to CoinDesk). Part of this was the FTT token: the exchange token of FTX. It fell in value significantly after CoinDesk's article. On November 9, 2022, Alameda's website could no longer be reached, and they filed for bankruptcy 2 days later. 
FTX, Alameda Research & Solana  
Approximately 2,200 validators secured the Solana network and confirmed transactions before FTX and Alameda went under. They received a staking reward of approximately 9% per annum for this. At the time of writing, there are only 1878 validators according to Solana Beach; a significant drop. This raises the idea that many participants of the network were FTX and Alameda itself. Although it may also be the case that validators have lost confidence in Solana due to the fall of FTX and Alameda and have therefore stopped validating the network. 
FTX and Alameda Research were closely connected to Solana and its ecosystem. FTX and Alameda were among the largest investors in Solana during the 2021 funding round, raising collectively more than $300 million from various parties. FTX & Alameda had also invested a lot of money in the ecosystem. Serum (SRM) was a major DeFi project on the Solana ecosystem. The value of Serum has dropped significantly: from about $13 in September 2020 to $0.26 per token. Raydium (RAY) is another token used for liquidity pools on the Solana blockchain. This token has also lost significant value: a drop of 99% from its peak. With this, a lot of confidence in the larger DeFi projects on Solana seems to have been lost. This may be because FTX and Alameda were active in these tokens and their associated functions. 
FTX and Alameda still hold substantial amounts of SOL. This SOL will eventually have to be sold, one way or another, because both companies have filed for bankruptcy. Although in some cases this can take a long time and be a slow process, eventually this SOL will be sold on the market and will create significant sell pressure. This can have a negative effect on the price of SOL. 
The Solana foundation is a non-profit organization based in Switzerland. She is jointly responsible for the decentralization, growth, and security of the Solana network. The Solana foundation had a large amount of FTT and Serum stored at FTX. In all likelihood, these funds have been lost. This can be a major setback to the Solana foundation and therefore the development of the Solana network. 
In addition to these bad developments for Solana and the ecosystem, other projects have been launched that would be superior to Solana such as Aptos. You can read more about this in Aptos, the Solana killer . 
The bull case for Solana  
However, all this shocking news does not have to mean the end for Solana. Good developments are also underway. For example, a few weeks ago Google stated in a press release that they have started a partnership with Solana. Google Cloud runs a validator for the Solana network. This means that they also had to buy a large number of SOL. In addition, it will be possible for Solana validators to run on Google Cloud from 2023. This can make it more cost-effective for validators. 
Circle, the publisher of the stablecoin USDC, indicated a few weeks ago that they will also implement the Euro stablecoin (EUROC) on the Solana network. For example, one can hold funds in this stablecoin on the Solana network and perform all kinds of DeFi activities with it. This allows traders to easily move from the euro stablecoin to the dollar stablecoin. This can be a significant boost to the Solana ecosystem and network. 
Despite the negative price changes, developments for the network continue as usual. Solana has plans to increase the number of transactions per second through several updates. Since Solana burns 50% of the transaction fees and removes them from circulation, an increase in the number of transactions can have a positive impact on the price of SOL . 
Solana Price  
Due to the crypto bear market and the negative developments of the last few weeks around FTX and Alameda, the SOL token has lost a large part of its value. SOL is currently trading at around $14. This is a drop of more than 90% since the high of $240 in November 2021. Despite the large drop, SOL remains one of the most traded coins in the crypto market. 
Conclusion  
However much the focus has been on all the negative developments surrounding FTX, Alameda and Solana, there are also positive developments going on. It remains to be seen whether these positive developments outweigh all the negative ones, especially regarding the price development of SOL. Nevertheless, Solana remains a powerful network due to the scalability and speed of the network and one can wonder whether SOL is undervalued by the market at its current price of $14. The future will tell if Solana can survive the fall of FTX and Alameda.