Ripple (XRP) price prediction 2022 - 2025
- 7 minute read

The end of 2021 is approaching and in the crypto market this often means that something is about to happen. In our forecasts for  Ethereum,  Cardano and  Uniswap, we have already looked at the future of these coins. Today, we take a look at the Ripple price forecast for 2022. Ripple is facing an exciting year in which the court ruling may be decisive for the course to be taken in 2022 and beyond.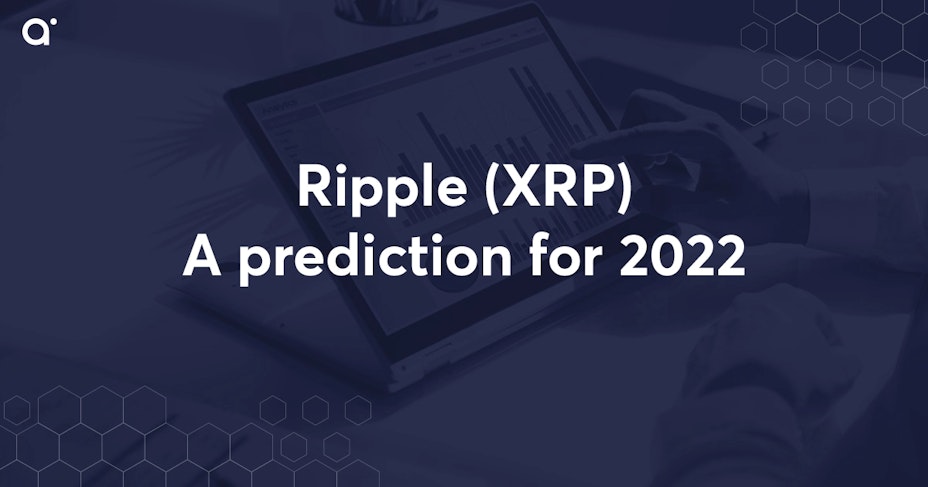 Table of Contents
What is Ripple?
A misconception that people often make is that when they think of Ripple, they immediately think of the cryptocurrency XRP. However, the XRP coin and the Ripple company, technology and ecosystem are not entirely synonymous. Ripple does use the XRP coin for various applications within its ecosystem.
The Ripple company focuses on improving global payments. Under the umbrella of the Ripple brand are several branches and solutions - RippleNet, the XRP Ledger, the XRP coin and RippleX.
RippleNet
RippleNet is a global network that financial institutions can use to transfer money faster, with more transparency and at lower cost through a unified system, unlike the divided traditional ecosystem that banks have historically worked with.
XRP Ledger
The XRP Ledger is an open-source blockchain on which the XRP coin runs. XRP is the original asset of the XRP Ledger. The XRP Ledger and the XRP coin run independently of the Ripple company, although Ripple uses both for different solutions.
RippleX
RippleX serves as a platform that promotes blockchain-based solutions that interested parties can use for their various value transfer-based use cases.
Technical aspects of Ripple (XRP)
Ripple can complete transactions within 3 to 5 seconds on the XRP Ledger. Compared to Bitcoin, this is extremely fast as transactions on the Bitcoin blockchain can take up to 10 minutes. This is because the Proof of Work consensus is slower (and more energy consuming) than Ripple's consensus.
Ripple has very authoritative node validators. Node validators are those who check whether a transaction is legally valid or not. Ripple validators include banks, individuals, private payment providers and cryptocurrency exchanges. The XRP ledger also has a system that prevents double spending. This prevents users from spending the same amount of XRP twice, as the system detects the double transaction and deletes the subsequent data.
Ripple price chart
Ripple Price History
Looking at the price of XRP, you can see that it peaked during the bull run of 2017/2018. Indeed. Bitcoin received global (media) attention from 2017, which caused a large group of new investors to enter the crypto industry. The money of the new investors flowed into altcoins. Ripple was one of the altcoins that rose the fastest in terms of value, as they were already a strong cryptocurrency at the time with a strong project behind it.
After the bull run of 2017, the price of XRP plummeted tremendously. At one point, its value had fallen by more than 97% from its all-time high. Meanwhile, a new era has begun in the crypto world and XRP has experienced the necessary price developments. In order to put these price developments into perspective, we have compiled a price list of the highs and lows of recent years.
XRP price 2015: Lowest - € 0,0037 / Highest - € 0,0094
XRP price 2016: Lowest - €0.00404/ Highest - €0.02444
XRP price 2017: Lowest - € 0.003 / Highest - € 2.474
XRP price 2018: Lowest - € 0.245 / Highest - € 3.317
XRP price 2019: Lowest - € 0.193 / Highest - € 0.505
XRP price 2020: Lowest - €0.11 / Highest - €0.79
XRP price 2021: Lowest - € 0.20 / Highest - € 1.64
XRP price 2022 (until now): Lowest - € 0.30 / Highest - € 0,83
Ripple Roadmap 2022
It is known that Ripple will launch a number of major projects in 2022, such as the Ripple Liquidity Hub. Despite these projects, the price of XRP is highly dependent on the outcome of the lawsuit with the United States Securities and Exchange Commission.
SEC lawsuit
The lawsuit between Ripple and the Securities and Exchange Commission (SEC) is one of the biggest lawsuits today in the crypto industry. The SEC, founded in 1934, is the US regulator of various (securities) exchanges.
In 2020, the SEC sued Ripple for selling unlicensed securities in the form of XRP tokens since 2013. Ripple objected to this because they do not consider XRP to be securities. The SEC then said that Ripple had been able to find out through research that XRP tokens are indeed securities.
This soap has caused the value of XRP to tumble several times. A court ruling is expected in 2022. If Ripple wins the case, there is a good chance that this will have a positive effect on the value of XRP. If the SEC wins the case, this could have disastrous consequences for Ripple and the value of XRP, as fewer people are expected to trust the company.
Ripple Liquidity Hub
Outside of the lawsuits, Ripple is also developing and expanding its services. During 2022, Ripple will launch their Liquidity Hub service. This service will allow companies to easily and efficiently acquire digital assets from the crypto market.
Customers will be able to trade from a selection of cryptocurrencies, including Bitcoin, Ethereum, Litecoin, Ethereum Classic, Bitcoin Cash and XRP. Ripple hopes to offer other digital assets such as NFTs in the future.
XRP price prediction 2022
In the case of cryptocurrencies, predicting exactly what the price will do remains difficult. Nevertheless, several price forecasting agencies have made these predictions.
TradingBeasts, a price forecasting agency which makes price predictions on the basis of an algorithm, is optimistic about the price of XRP. Their expectation for 2022 is that Ripple will reach a value of $1.62, which would more than double its current value.
CoinQuora is an independent media organization which, among other things, uses technical analysis to make price predictions for cryptocurrencies. CoinQuora is very bullish on XRP in the long term but expects XRP to break its old record only if XRP breaks through all resistance levels. As this is unlikely, CoinQuora expects the price of XRP to move between $0.9065 and $1.9617 by the end of 2022. It should be noted that these are not necessarily the levels that XRP will move between throughout the year. In the most bearish scenario, CoinQuora predicts that the price of XRP may drop to $0.2017.
Changelly is the most optimistic of the reputable price forecasting agencies. They predict that Ripple will hit a record high in 2022 and therefore expect the price to break the old all-time high from 2018 in 2022. Changelly's price prediction for Ripple 2022 is a value of $3.84 per XRP.
| | | |
| --- | --- | --- |
| TradingBeasts | 2022: | $1,62 |
| CoinQuora | 2022: | $0,2017 - $1,9617 |
| Changelly | 2022: | $3,84 |
XRP price predictions 2023 – 2025
Making long-term forecasts remains a risky business in the cryptocurrency industry. Due to the many price fluctuations, it is difficult to predict Ripple's price in the years to come. Ripple's price in the forthcoming years is highly dependent on a number of factors:
Do they win the court case with the SEC;
Are they developing their product any further and faster than their competitors;
How does the crypto market move as a whole, is there a bull market or bear market;
How does the world economy move as a whole, economic growth or contraction.
Each of these factors can have a very strong influence on the price.
TradingBeasts has also predicted the price of XRP for the years 2023 to 2025 with their algorithm. TradingBeasts' price predictions for 2023 are that XRP will reach a maximum value of $0.67. In 2024, the maximum price is expected to reach $0.97. In 2025, the price will continue to rise and by the end of 2025, the highest prices are expected to be $0.94.
CoinQuora also ventures into XRP price predictions for the years 2023 -2025. The price predictions are made based on a very bullish scenario. There is a considerable chance that their predictions will not come true.
In case the crypto market is very bullish in 2023, CoinQuora expects that XRP could reach $5 by the end of 2023. If the developments at Ripple continue to be successful, the price of XRP may rise further in 2024, to $10. Then, in the most bullish scenario, the price will rise further in 2025 and XRP may reach a price of $15 per XRP.
Finally, we have Changelly's price predictions for XRP. Changelly is a lot more conservative than CoinQuora's price predictions. Changelly expects the price of XRP to be between $0.70 and $0.83 by the end of 2023. In 2024, the price will increase further and a maximum price of $1.22 is expected. This value will increase by more than $0.50 in 2025 to a total value of $1.76 per XRP.
| | | | | | | |
| --- | --- | --- | --- | --- | --- | --- |
| TradingBeasts | 2023: | $0,67 | 2024: | $0,79 | 2025: | $0,94 |
| CoinQuora | 2023: | $5,00 | 2024: | $10,00 | 2025: | $15,00 |
| Changelly | 2023: | $0,83 | 2024: | $1,22 | 2025: | $1,76 |
Is 2022 a good time to buy XRP?
There is no way of telling for sure when it is a good time to buy XRP. At the time of writing, the price of XRP is below $0.70. According to analysts, it would be a good time to buy, because they expect the price to be much higher than this. However, we may be in a bear market, and these have proven to be able to last for several years during which prices fall dramatically. Therefore, a lower price for XRP is not unthinkable. However, this only links the price expectation of XRP to crypto market factor.
Looking at the intrinsic value of XRP, the coin is doing well, compared to other crypto currencies. The coin has low transaction fees and is scalable in terms of payments, with transactions occurring every three to five seconds. XRP therefore represents an enormous value according to experts.
In addition, the lawsuit between Ripple and the SEC seems to be falling in the right direction for Ripple. The outcome of the case is not guaranteed yet, but it is one to keep an eye on.